MISSION: Elkhorn Grandview Middle School engages students in a collaborative environment where proven instructional practices support individual growth and problem-solving skills.
SCHOOL IMPROVEMENT GOAL: To improve the literacy and numeracy skills of each individual student.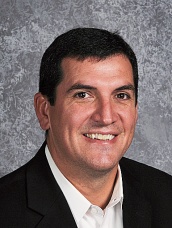 Welcome to Elkhorn  Grandview Middle School, where we are committed to continuing the rich history and success of the Elkhorn Public Schools.
The programs offered at the middle school level can be broken down into three areas: core, exploratory and specials. The core areas of reading, language arts, math, science and history are rigorous and challenging. The exploratory curriculum allows all students to experience a wide range of skills and knowledge in the areas of computer application, industrial technology, family and consumer science, speech and drama, health and art. Our specials include world languages, vocal music, instrumental music, high ability education and media skills.
We also encourage all students to be involved in school activities such as show choir, jazz band, student council, circle of friends, chess club, yearbook, the middle school play, computer club, running club, volleyball, football, basketball, wrestling and track. These activities not only give students the full school experience but research shows that students who are engaged in school activities demonstrate greater academic achievement.
The school culture at EGMS is one of continuous improvement. We believe it is our responsibility to engage students in the learning process. Students are not allowed to sit quietly in class and not participate. We believe that teachers must work collaboratively to ensure high levels of instruction are taking place in every classroom, every day. Lastly, we believe we must monitor student progress and provide appropriate levels of support for students when needed. Our interventions provide extra time, support and instruction for any student who needs it.
Elkhorn is a great school district with fabulous community support. I hope this information was helpful and informative. Feel free to contact us by phone or email (mtomjack@epsne.org) with any questions you may have.
17801 Grand Avenue
Omaha, NE 68116
402-289-9399
FAX: 402-289-9499