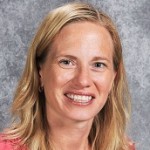 It is with great pleasure that I welcome you to Blue Sage Elementary! Blue Sage Elementary opened in the fall of 2018 and is a K-5 elementary building serving Elkhorn families living in the Southwest quadrant of the Elkhorn School District.
At Blue Sage Elementary, we have exceptional teachers, and we are excited to get to know our wonderful students and parents. Student learning focused on the growth of each student is our main focus, and we are deeply committed to continuous school improvement. Plus, positive collaborative relationships matter to us at Blue Sage Elementary, and we seek to develop, nurture, and continue to grow them with our students and families.
Please remember that this is your school, and we welcome your involvement. A strong and healthy parent/school relationship is vital to our success. I personally invite you to help us build our strong sense of community and to strengthen our partnership. When the partnership between Blue Sage Elementary and the families we serve is strong, achievement is also strengthened, and our students will ultimately benefit.
We look forward to working with all our Blue Sage families to ensure the best possible future story for each student. Please feel free to call or email me at any time at 402-332-0125 or achrist@epsne.org.
Amy Christ, Principal
Blue Sage Elementary